Last Thursday was a very exiting day for RESD Students: We had the opportunity  to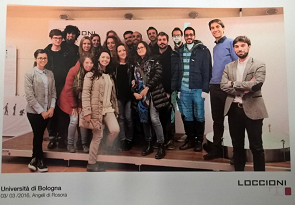 visit the Loccioni Group Company in the Marche region. What we saw there was impressive, they call them self an Open company, that enables to all its stakeholders (customers, suppliers, competitors, the public community, visitors) to enter in the company ant interact with it. This Openness is key when it comes to the creation of new business opportunities and enhances networks and technology applications.
In fact, when we arrived there at 9:30 am after a 1,5 h bus ride from Rimini, we were welcomed in a very open way. No visitor badge, no security check, no stickers on the cameras of our smartphones that would prevent taking pictures of the production site. Our guides told us that Loccioni was founded in 1968 and offers today measures and test solutions to improve the quality of products and processes for the manufacturing and service industry. Around 400 employees build up products like in a "tailor's shop", which means that Loccioni offers tailor made solutions for their customers, where every product is customized. What really impressed me were some numbers about the company, with 33 as average age and more than 50% of all employees with a university degree, Loccioni is definitely not like the average Italian company.
After visiting the production site  and a super tasty pizza offered by them, RESD students participated in a group work that was somehow a simulation of what the working day in such a company looks like.
The trip to the Loccioni company was a good opportunity to see how a modern buisiness approach can substitute the so called dominant business paradigm, and that also other companies could follow an approach like them.
A big THANK YOU to all the people that helped to make this trip possible!