We all well know how much time you like spending on Facebook! Posting pictures of your amazing vacation, or sharing videos and posts! It has been estimated that the global average of time spent on your favourite social network is more than 20 minutes per day!
Today the green column wants to give you an alternative! Of course a GREEN ONE!
Lately I found out this amazing social network: greenApes. You can download the app from your app store or from the website https://www.greenapes.com/en
Basically it works as a normal social network, and even the outline is very similar to its most famous sibling. So it is easy to get friendly with it!
What makes it different is its scope! On greenApes you share your green actions and ideas, such as a vegetarian meal you have cooked or a bike ride to your workplace; you can explore the sustainable venues around you thanks to its map: that helps me to find interesting spots in my city I didn't know! You can connect with other "apes in the jungle" building your network of environment friendly buddies!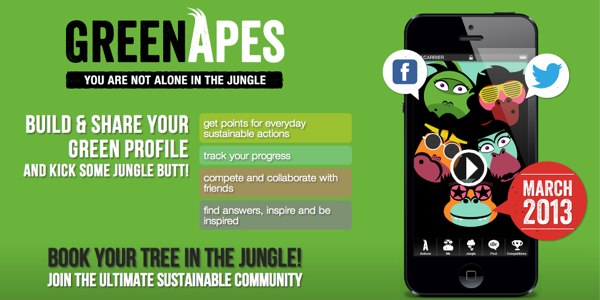 The funny things is that each time you do something sustainable you get rewarded collecting BankNuts that helps you to grow from a small tiny monkey to a earth protector gorilla! Moreover, the special "coins" you earn can be used to have discount in sustainable shops and access to beautiful rewards!
Look to this explanatory video!
The project is expanding very fast and we can all help out sharing this amazing idea with our friends! Just connect and start your journey!
Remember you are not alone in the jungle!