These days, while we are conquering  a new beach, a new lazy day…which are in practice new just to us, a cruise is routing on a brand novel path: the one approached for the first time during ice ages  by our ancestors and then back again by Amundsen.
Crystal Serenity is capitalizing climate change.

Open the Gates !

The Arctic is melting. Data show that 1995-2005  was the warmest decade since the eighteenth century; and unluckily  the long term trend of ice melting  is non- stopping: indeed,  it is increasing.
In particular, the 2007 melt season recorded an historical minimum: for the first time in human memory, the North West Passage opened completely.
This event built an occasion for real business and real money, according to Crystal Cruises.
Crystal Cruises is an American  luxury cruising company, some newspapers say it is actually the best ever. Wouldn't it be logical for a company whose motto is  "The difference is Crystal clear"?
Not, indeed. One of the distinctive traits of Crystal Cruises is the one to organise themed trips.
Record breaking ones too! In fact this one will be an unforgettable one for the passengers: not only for the price (which according to the Wall Street Journal amounts for a minimum of 22,000 $ without extras)  but also because the cruise is the biggest ship crossing the passage.
It is in fact (rarely) being  crossed by small ships with the mission to deliver food and medicines to remote populations. A passage, an historical and difficult one, which will be crossed completely in less than a month time, leaving from Alaska and heading  NYC.

Good News Coming from Above (?)
A coinciding record was expected to be met between August and September this year:  a low extent sea ice.
Fortunately this is not going to be met, according to the National Snow and Ice Data Center.  In fact July has been a cool and stormy month in the Arctic.
Not too much fun, though, because the Arctic sea ice extent for July averaged 8.13 million square kilometers (3.14 million square miles), the third lowest July extent in the satellite record.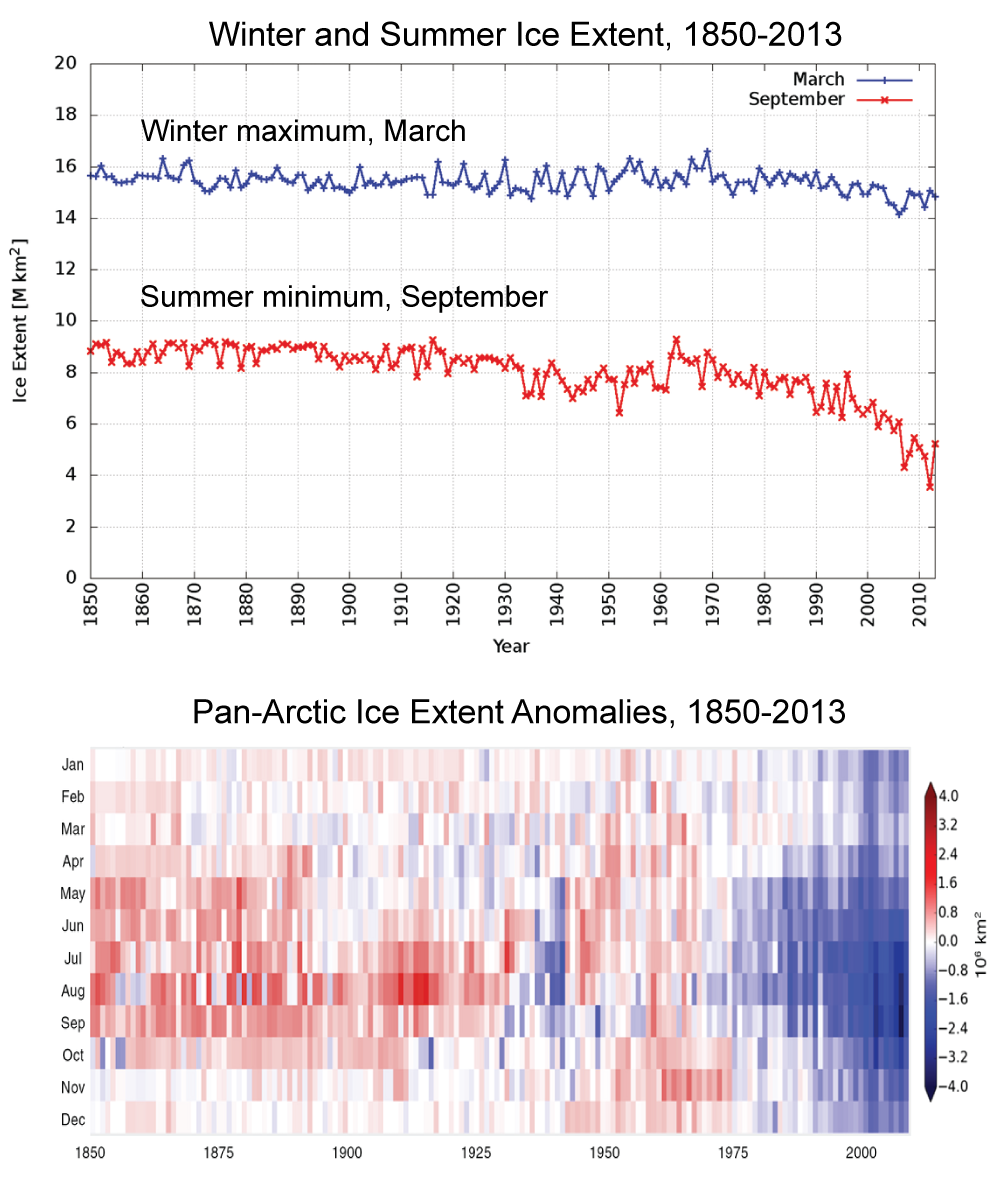 Moreover in July  NOAA at NSIDC published a new compilation of Arctic sea ice extent (in the figure above) using a variety of historical sources, including whaling ship reports and several historical ice chart series from Alaska, the Russian Arctic, Canada, and Denmark, starting from the year 1850. Well,  the conclusion is  that the current downward trend in sea ice has no precedent during this timeframe, at least.
Some questions, in the end
Climate Change is showing off new frontiers and some are undoubtedly enthusiastic about that.
BUT
Do we really need all to be explorers? And cross a wild and natural passage with a  a 820-foot-long, 13-deck cruise ship with a casino, a movie theater, six restaurants and a driving range (WSJ)?
Is it fair to exploit a negative phenomenon, like the spill-overs of Climate Change?
Wouldn't we incur in the risk of stimulating these negative drawbacks for  the pure sake of our human pleasures?
Maybe we need to slow down.