Yet another year, climate change shows its effect more vividly on European summer. Extreme temperatures have devastated corn fields in North Europe, while a combination of droughts and high intensity rains on the Black Sea area have plunged production estimations, with the consequent potential of a price raise.
France, main EU producer, has also been experimenting extreme meteorological situations, which forced analysts to take their production estimations down to 34 million tons, almost 3 million less than last year.
As we follow harvest path to North Germany (second biggest corn producer in the European Union, right behind France), more and more evidence of damage on the crops arise, leading to a reiterative cut on the production forecasts for the EU joint corn output.
"Situation is catastrophic in northern Europe" recently said Andree Defois, president of Strategie Grains, the company of reference regarding grain and oilseed markets in Europe.
The consultancy cut off again few weeks ago its estimation for soft wheat's harvest in Europe for the year, setting it under the 130 million tons, which is a six year minimum, and Defois confirmed that most likely it will be revised again.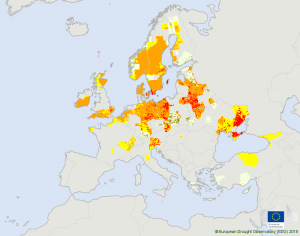 Poland wheat production is also struggling: droughts at the beginning of summer and the effects of the recent heatwave mean that the country's production may fall over 8%, to a total of 10.7 tons, according to Wojtek Sabarinski, analyst for Sparks Polska.
In the meantime, United Kingdom prays to have it better than its neighbours, has also estimated that this year's output will be a 5 years low.
The Scandinavian and Baltic regions have not been able to escape this weather craziness either: for instance, Sweden's production has fallen around a remarkable 40% so far.
European prices have risen over 15% in the last month, reaching its peak price in the last 4 years: 208.5 €/ton, in consonance with an increasing concern worldwide regarding wheat supply.
Thus, the repercussion of European situation it's going to be noticed all around the globe. Considering that the EU as a collective is the main wheat producer in the world, and that the forecasts for production have fallen for the main four producers (France, Germany, UK and Poland), shortage in supply or a very noticeable increase on prices to readjust equilibrium may be expected.
The implications of this situation are very straight forward: the price rice in such a basic product as wheat will definitely be felt throughout the agro-alimentary sector. While clearly being bad news, both for Europe and for consumers, we can only hope governments take note of the "not-so-gentle" pushes that nature keeps on giving us. Global warming is becoming everyday a more tangible problem, and the longer we take to seriously tackle it the more it will cost us.