Teaching people of any age is a crucial step for a more sustainable world. While stumbling across the Web I found this very nice flashgame for children up to 14 that tries to teach in an interactive way what sustainability is, how the extraction of resources affects the environment and what would be the best practice to avoid damages. When we started playing this game, we realized that we all can again some knowledge about cleaner environment or use products which are more sustainable.
It is interesting how players have to solve different problematic scenarios in the game, from choosing a location of a house to reach a minimal impact on environment, but also how to save energy, water and waste.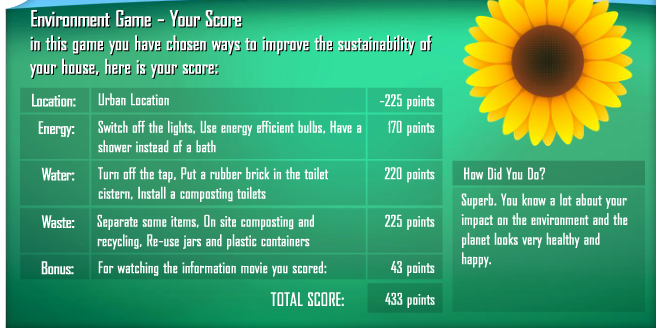 The game starts with the game details and which things are useful for the environment. In the end it asks few questions and in turn give your a score according to your answers. As you can see, we got a bad start but we finally made it up with our wise choices. For young people it could be more useful so that they start doing these things now for a better and cleaner future.
So if your kid or grandfather wants to play on the computer, and you want to make them learn some things about sustainability, consider this game! Who knows your kid might become one famous ecologist or really good town planner.
http://www.mysusthouse.org/game.html
5 stars for this game. Big thumbs up.
Written by: Max Unterthiner and Pushkar Sabharwal