Today an article written by our fellow RESD student Ruggiero Rippo! Enjoy it as much as we do!
This year on the 19th of February all of us can make a big difference. On this day the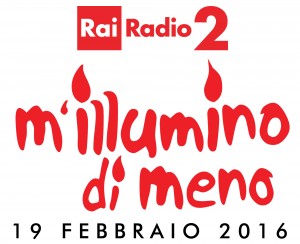 largest broadcasting initiative takes place, to raise awareness about energy consumption and sustainable mobility. The event, called "M'illumino di meno" ("I enlighten myself less"), is at its 12th edition and speaks to all of us: citizens, private associations and public institutions. The campaign is supported nation wide and on a European level by different public authorities, such as the Presidency of the Italian Republic, the Italian Senate and the Chamber of Deputies, and the European Parliament. Participating is very easy. Just take some simple actions that affect our daily routine: turn off all the unnecessary lights, ride the bike on your way to work or to the university, minimize the use of electric appliances. Basically, have a zero energy impact for one single day! The people involved in the project have achieved sensational goals through the years; for example: they organized concerts where the spectators cycle to produce electricity; they managed to "switch off" the main monuments in our cities like the Eiffel Tower in Paris or the Coliseum in Rome. Even Hans-Gert Pöttering, the President of the European Parliament in 2008, declared that "the event has a symbolic value with a tangible effect". In fact, even if the event has a short length, it achieved to drastically reduce the energy waste. In 2007 and 2008 the demand of energy, few minutes after the event has started, was respectively 300 MW and 400 MW lower than usual. This is a huge amount of energy saved! Therefore, the possibility to make a difference, even if just for one day, is concrete. As the slogan of the campaign recites: "Sol Omnia regit", "Everything depends on the sun", we are all summoned to a conscious use of our resources, starting with changing our habits.
For more information just follow the link : http://caterpillar.blog.rai.it/milluminodimeno
Thanks and big thumbs up to Ruggiero Rippo for your partecipation on SteamGreen!